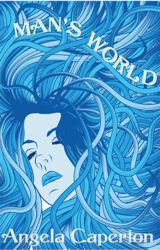 I've been excited about Man's World ever since the first single idea cell spontaneously generated in the primordial soup of my brain.
I love old space opera, especially in its sexy incarnations. Classic Flash Gordon comics (and the old serials to some degree) are full of understated eros, sexy costumes, and exaggerated male and female characters. The 70s movie Flesh Gordon took all these icons into an explicit direction and, even if the film isn't great, I enjoyed it. The French comic strip and Jane Fonda movie Barbarella provided another inspiration. Hell, even the 80's TV Buck Rogers in the 25th Century helped me craft this story.
In my novel, I wanted to tell a straightforward story about a girl's adventures in an SF world of sexual stereotypes inspired by old pulps and 20th Century notions of sexuality. My partner Drake had also shared with me his interest in a man named William Moulton Marston, a truly twisted renaissance character who lived from 1893 to 1947. Marston was a psychiatrist, inventor, and author who had some very definite ideas about the roles of men and women.
(
Collapse
)